In Memory
Ricky Campbell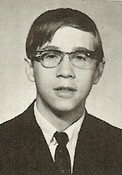 Ricky Campbell
Ricky D. Campbell, 21, of Kearney, died Wednesday, February 18th, 1975, in Harmon Park. The county attorney, acting as coroner, ruled that he took his own life.
He was born in Oxford and had lived in Kearney since 1965. He was a 1971 Kearney High School graduate.
Survivors include his parents; the Rev. and Mrs. Ivan Campbell of Kearney, three brothers; Loyal of Kearney, Kenis of Oklahoma City, Okla and Bryan of Kearney, two sisters; Aleta of Colorado Springs, Colo, Elona of Kearney.
Services are Friday at 2 p.m. at the Nielsen Mortuary the Rev. Donald Hogan officiating. Pallbearers will be Bill Kirkland, Gary Johnson, Tyler Anderson, Keith Sinclair, Marty Murphy and Chris High.